You know how I am about suggesting families get out of the house and do something together that has the lowest probability of conflict and the highest probability of something memorable (meaning enjoyable) happening. Nature is perfect for this kind of thing. Day trips to public areas are affordable on even the most limited budgets.
Just got back from spending time at Fall Creek Falls State Resort Park (two and a half hours from Nashville). The park sits on the western edge of the Cumberland Plateau, a geological formation that runs through Tennessee and provides some of the most amazing natural gorges and wooded landscapes found anywhere in the United States.
This park has spectacular waterfalls and rapids, breath taking cliff top views, a cool cable suspension bridge across one of the wider, deeper creeks and a variety of hiking trails (as well as campsites, a hotel and cabins for rent). In more seasonable weather there is horseback riding, canoe and kayak rentals and swimming in both swimming pools as well as at the lake.
We went to see the jewel of the park: Fall Creek Falls, the highest free fall waterfall east of the Mississippi falling a majestic 256 feet. It only required mild to moderate hiking (with a couple of steep stairways) to get an eyeful of waterfalls and vistas across wide gorges and high walls. (The less adventuresome or less fit can drive from the Nature Center where you see Cane Creek and Rockhouse Falls to the observation area for Fall Creek Falls.) Once you reach the Fall Creek Falls observation area, the more adventuresome can take a difficult hike (because it is very steep) to the base of Fall Creek Falls to witness the falls from below and play in the plunge pool (again, in temperate weather when the water isn't CRASHING down). Difficult hike but well worth it for those who can manage it.
It was a great trip. We spent about 4 hours all told. The weather held (cold but clear) resulting in a great day seeing spectacular natural views. The water was rushing at high volume making all the creeks beautiful and falls magnificent. Here is some of what you will see when you visit.
Within several hundred feet of the Nature Center you are looking at Cane Creek cascades.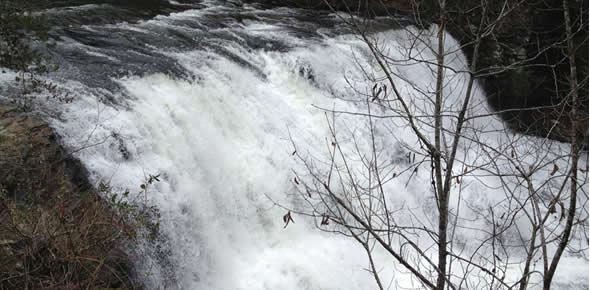 Cane Creek is crossed by way of a suspension bridge (that shakes and bounces as you walk).
Then, a more sturdy wooden bridge leads you across another creek.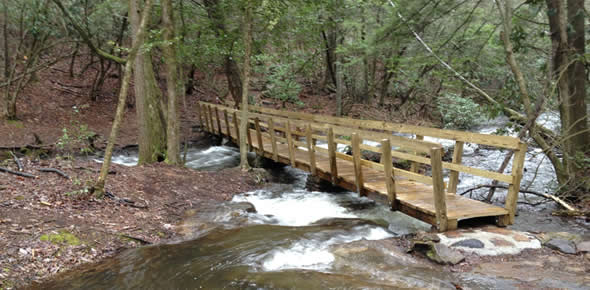 Within several hundred yards of the Nature Center you are looking back across the gorge at Cane Creek Falls and Rockhouse Falls. Here is the first view of Cane Creek and Rockhouse Creek falls.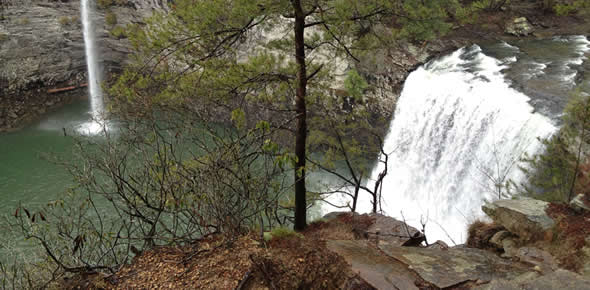 It is a casual walk through a wooded landscape though there are a couple of steep inclines (with stairs).
And then you see this: Fall Creek Falls (and the smaller Coon Creek Falls)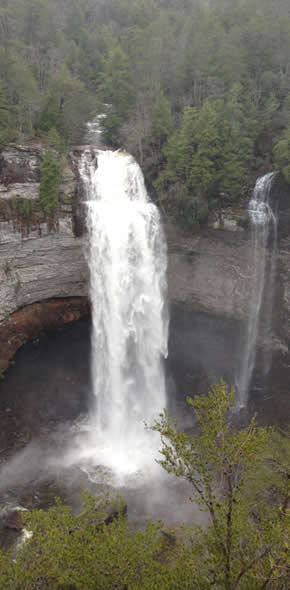 The descent to the plunge pool at the base of the falls is very steep despite having lots of concrete steps but the payoff is beautiful rock canyon walls and creeks running through hardwood forests.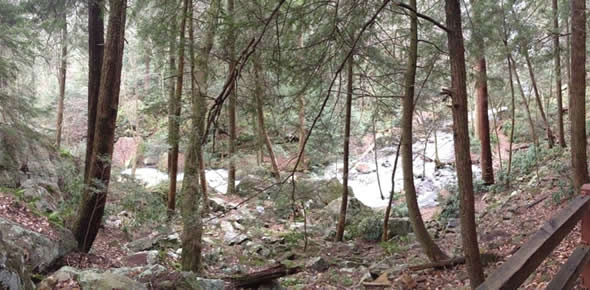 And the magnificent Fall Creek Falls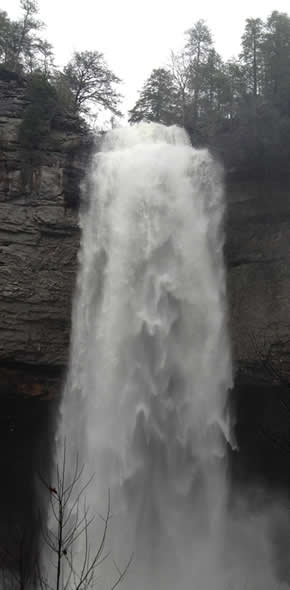 Wherever you live there are parks or natural recreation areas within a couple of hours drive. Make a day of it. It puts a whole different slant on the rest of your daily, routine, hum-drum family interactions.