Got a problem with your teen?
In 10 minutes you can have answers.
Most parents can't find the time to get everything done in the day let alone keep up with new trends in effective parenting.
Who has time to read a book about what to do when your kid announces he's getting his nose pierced? Or you discover alcohol hidden in her room? Where do you turn when you need ideas right now.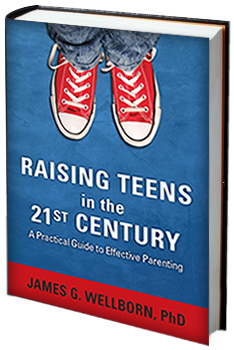 Dr. Jim Wellborn has written a practical guide to parenting that presents effective strategies for dealing with a whole host of teenage issues. Writing in everyday language, he skillfully blends proven psychological principles with practical parenting advice.
The topics are easy to find and simple to understand. This book is filled with time-tested techniques along with novel strategies derived from research, years in private practice with adolescents and their families and Dr. Wellborn's own experiences as a parent.
When parents had questions in the past they talked to other parents, turned to family members or had to figure it out as they went along. Now there is another place to go for answers. This guide provides effective parenting solutions for the confusing and rapidly shifting issues that confront today's teens and their parents.
In just 10 minutes you can learn exactly what to do about the most common situations encountered when raising teens in the 21st Century.
---
Click here to see the References section of Raising Teens in the 21st Century.