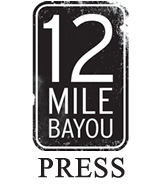 12 Mile Bayou (pronounced "by you") Press is an independent book publisher based in Brentwood, Tennessee (just outside of Nashville).
Founded in 2012, this publishing company was named after a slow moving water channel in Shreveport, Louisiana. It was a magical place where kids (young and old) could spend breaks from school and the lazy days of summer fishing, running trot lines, riding in the johnny boat but mostly playing in and around the water.
Our mission is to publish high quality books for teens and their parents that help them negotiate the challenges of coming of age in the 21st Century. Future projects include parenting books on preparing teens for the 21st Century workplace and disciplinary approaches that are effective for teens as well as a catalog of modern enchanted stories.
[divider type="image"]
12 Mile Bayou Press
330 Franklin Road
Suite 135a-225
Brentwood, TN. 37027-3282
United States
615.775.7822
email: 12milebayoupress@gmail.com