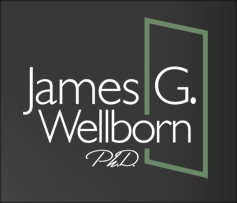 Dr. Wellborn is a clinical psychologist who specializes in individual, family, and group psychotherapy with children and adolescents addressing family and peer conflict, oppositional or risk taking behavior, attention disorders, parenting/discipline problems, academic motivation and school failure, alcohol and other drug issues, depression, anxiety, and obsessive compulsive disorders.
What Is A Clinical Psychologist?
Clinical psychologists are highly trained mental health professionals with expertise in the areas of human behavior, mental health assessment, diagnosis and treatment, and behavior change. Psychologists complete an average of 7 years of graduate education training and research. As part of their training, they must complete a supervised clinical internship and at least 1 year of post-doctoral supervised experience. They must pass a national qualifying examination as well as complete annual continuing education and training. Psychologists are not medical doctors. They do not prescribe medication.
Psychotherapy Approaches
There are a variety of psychotherapy approaches therapists use to be helpful to individual clients, families or groups.  The following is a list of the approaches used by Dr. Wellborn.
Problem Focused/Solution Oriented
Cognitive/Behavioral
Family Systems
Activity Therapy
Individual Therapy
Family Therapy
Educational Consultation
---
Office Location
BUMC Counseling Center
311 Franklin Road
Brentwood, Tennessee
Phone: 615.370.2868
Fax: 615.370.8768
Office Hours
Mondays 12-9 PM
Tuesdays 12-9 PM
Wednesdays 12-9 PM
Thursdays 12-9 PM